Address: 3018 W 56th St, Minneapolis, MN 55410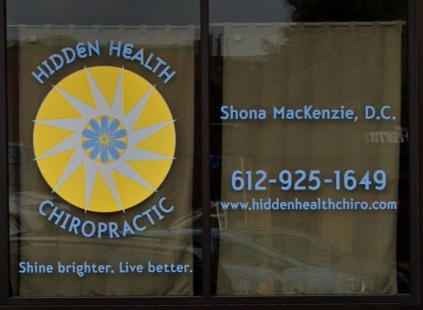 Minneapolis Chiropractor located at 3018 W 56th St. Minneapolis, MN 55410 in the heart of beautiful SW Minneapolis.
Conveniently close to Edina MN, Richfield MN, and Bloomington MN.
Free street parking is available.
If you are new to seeing a chiropractor and want to find out more, please email us at drshona@hiddenhealthchiro.com
or call 612-925-1649 to receive personalized answers to your questions.
Additionally, we also welcome referrals, therefore, we invite you to share our chiropractic and wellness information with your friends and loved ones.
Our singular mission at Hidden Health Chiropractic is to help families and individuals reach their best personal level of health and vitality.
Dr. Shona Mackenzie does this by passionately educating, motivating, and adjusting our patients to peak performance.
Furthermore, it is her personal purpose to provide quality chiropractic care in a warm and welcoming professional environment.
In conclusion, by doing this we create happier healthier families, a more loving community, and a better world.
Phone: 612-925-1649
Fax: 612-435-4161
Minneapolis Chiropractic Care Specialist
Our patients come from all walks of life and from a variety of economic backgrounds. We do what we can to provide budget-friendly health solutions for entire families.
We want you to know that we are prepared for you.
For the protection of our customers and our employees, we've followed the guidance of the W.H.O. and the I.C.C. and their directions to business owners.
We have disinfected all surfaces and implemented recommended strategies to keep safe distances between all customers and employees to prevent any transmission.
Our chiropractor is on top of the most current information available to businesses.
Please feel free to contact us with any questions about your health at 612-925-1649